Obviously the most important thing about a theatre is the show you've gone there to watch, however before the lights are dimmed and the players play, many theatres offer up a drama of their very own. Here are five of the most spectacular
1. Shakespeare's Globe Theatre, London
The original Globe Theatre was built in 1599, destroyed by fire in 1613, rebuilt and then demolished in 1644! The modern theatre is approximately 230 metres from the original building and is an 'academic approximation' of the original. It is the only building in the whole of London to be allowed a thatched roof since the 'Great Fire.
It's not unique either, 'academic approximations of The Globe' have been built far and wide, from Argentina, to Japan and the US (which has six!).
2. Minack Theatre, Cornwall
Opened in 1932 in the back garden of Rowena Cade, this open air theatre sits on the rocky shoreline of Porthcurno near Penzance. Entirely open to the elements, the waves and gulls provide a maritime atmosphere to even the most landlocked of play settings.
3. Margravial Opera House
Conceived in 1748 by Wilhelmine and designed by Joseph Saint-Pierre, this gothic and palatial building is now a UNESCO site.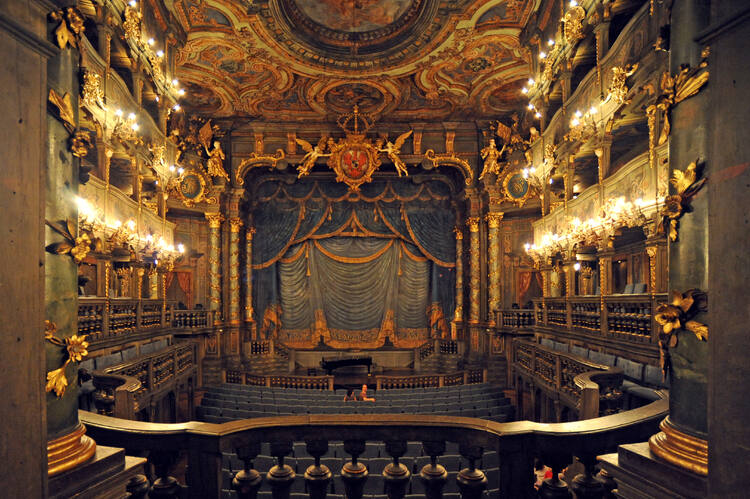 4. Salle Richelieu
Part of the Palais-Royal complex in centre of Paris, the Salle Richelieu is one of the only state-owned theatres in France and the only one with its own troop of actors. Completed in 1639 this grand building was the former residence of Cardinal Richelieu, French Foreign Secretary and founder of the Académie Française.
5. State Theatre, Sydney
Opened in 1928 this theatre was designed by architect Eli White, and combines a variety of eras, from Gothic and Italian, to art-deco.
The theater contains the second largest chandelier in the world and a priceless Wurlitzer organ, and is recognized by The National Trust of Australia, which has classified it as "a building of great historical significance and high architectural quality, the preservation of which is regarded as essential to our heritage."
---
---
---